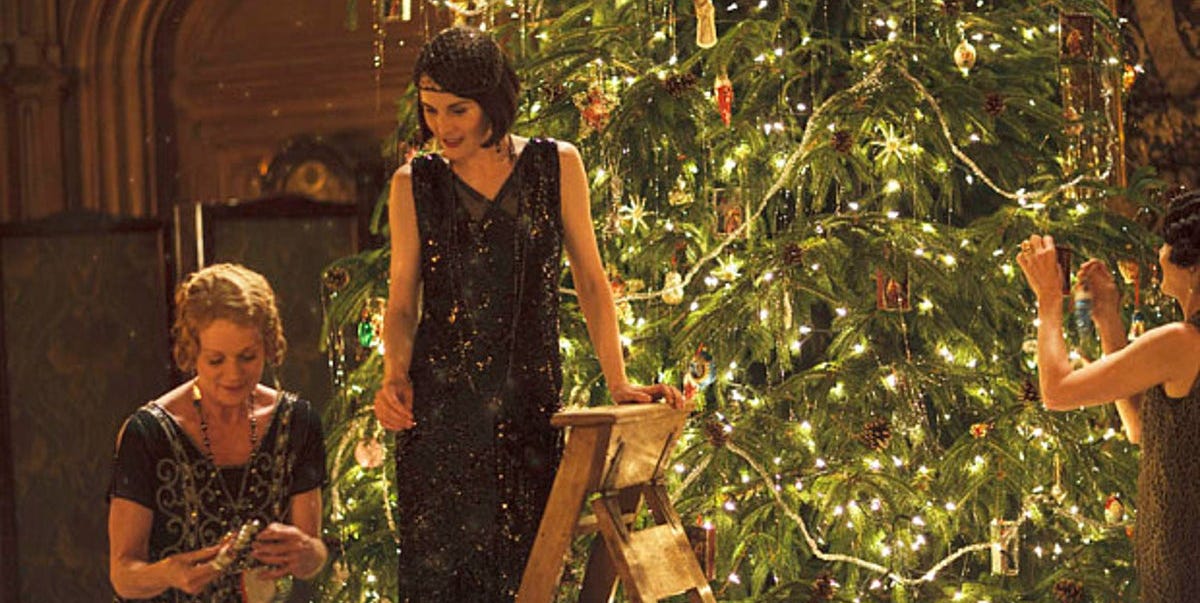 1
Downton abbey (Season 6, Episode 9)
While this season and the series finale is the length of a feature film, it is always considered an episode of Downton abbey. Unsurprisingly, the Christmas-themed special features a massive decorated tree. The silver garlands and the fine silver garland enhance its overall glow when viewed from a distance.
2
Gossip Girl (Season 1, Episode 10)
In the 2021s Gossip Girl reboot, Blair's mother, Eleanor Waldorf, and her husband Cyrus Rose are returning to host a Hanukkah dinner. The table itself features low white flowers mixed with simple yet elegant silver candelabra. But the real star of the decor is the blue and white floral arrangement – illuminated by a few white taper candles – in this shot.
3
Fuller house (Season 2, Episode 12)
If you are a fan of traditional and slightly cheesy Christmas decor, this Christmas tree Fuller house (which looks a lot like the one shown in the OG Full house series) is packed with just about every adornment you can think of, including popcorn, paper chain, and berry garlands.
4
Full house (Season 6, Episode 12)
This brings us to the OG Full house tree! Add a few candy canes and garlands in there, and you've got the busiest, happiest tree this season.
5
Grey's Anatomy (Season 2, Episode 12)
Izzie went all out when she decorated Meredith's house at the start of Grey's Anatomy. For a cohesive look, she incorporated colorful lights into the fireplace and tree garland. The mix of paper and glass ornaments on the tree adds character.
6
Family affairs (Season 6, Episode 11)
This scene from Family affairs proves that you can never have too much decoration during the holidays. Doors, windows, and even the extra parts of the wall that serve as plinths for poinsettias are lined with festive garlands in this scene.
seven
Gilrmore Girls
Do you have a double front door? Take note of Lorelai and Rory's home decorated for the holidays, especially the eye-catching double wreaths that greet visitors.
8
Supernatural (Season 3, Episode 8)
While this tree of Supernatural may seem simple, it's more than it looks. Some of the ornaments are half white on top with a red quilt-like pattern on the bottom. The colored lights make it slightly less traditional.
9
dash & lily (Season 1, Episode 6)
In the all-new Netflix series Dash & Lily, the gold leaf garland gives a metallic elegance to the Christmas party, which is quite the opposite of Lily's bright sweater in this pic!
ten
The nanny (Season 1, Episode 8)
If bows are your go-to decor, you'll love this Christmas tree that appears in the first season of The nanny. All the translucent ribbons in red and gold really give the tree an inviting touch. It almost makes you want to hug him!
11
One against one (Season 1, Episode 12)
Wreaths aren't just for doors! You can also display them on windows, as pictured here in this holiday One against one episode. The traditional look of these requires virtually no effort if you DIY them. All you need is a crown and a red ribbon!
12
Friends (Season 9, Episode 10)
This Friends The Christmas episode features a tree adorned with accents of an unexpected color combination: purple, gold, and silver. A closer look at the back of the apartment reveals a door with a piece of Christmas tree decoration that looks like faux purple ornaments!
13
The wonderful Mrs. Maisel (Season 1, Episode 8)
Remember: not all white or fully lit rainbows are your only two lighting options! This Christmas tree from The wonderful Mrs. Maisel features simple, festive red and green lights. What more could you need when the tree is set against a fun wallpaper background?
14
Sister, sister (Season 3, Episode 12)
Need a last minute centerpiece for your table? Fill a bowl or two with the excess ornaments. The one on this table Sister, sister proves you can keep the decor all season, too, instead of just breaking it up for fancy vacation dinners.
15
This 70s show (Season 1, Episode 12)
This Christmas tree from This 70s show features a healthy mix of ornaments, all spaced in a way that makes them less overwhelming to look at.
16
big mouth (Season 5, Episode 8)
Look, inspiration can come from anywhere, even from a sitcom based on a cartoon. This big mouth The Christmas episode features a plaid sofa, which might look super comfy in a living room with a fireplace on a cool December night.
This content is created and maintained by a third party, and uploaded to this page to help users provide their email addresses. You may be able to find more information about this and other similar content on piano.io