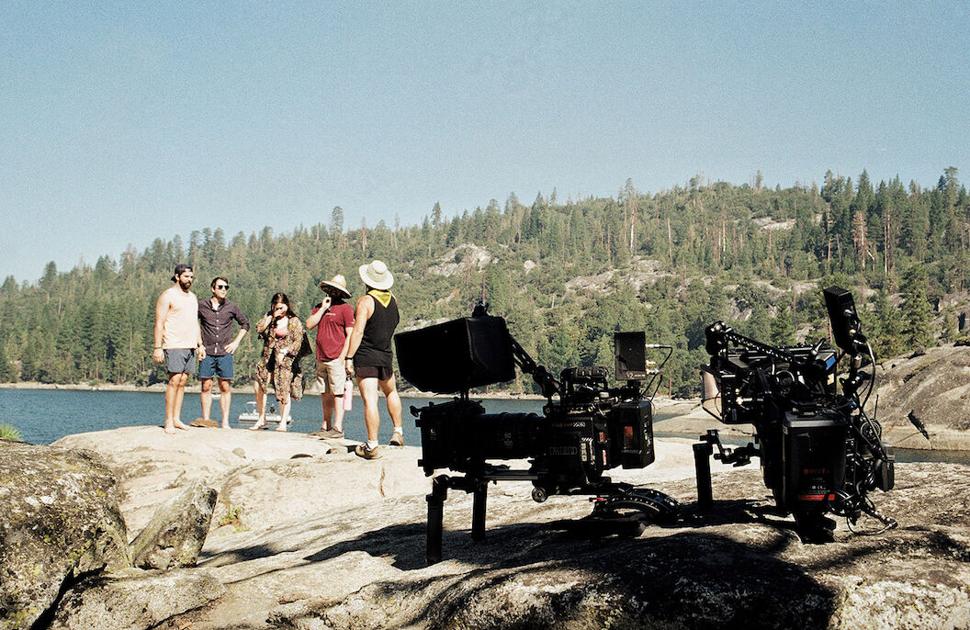 Concord-born brothers Kyle and Adam Newacheck are best known for their contributions to Comedy Central's sitcom "Workaholics", but their new collaborative project drew them to their childhood vacation cabin in Long Barn, where they recently finished filming a psychological thriller tentatively titled "Stranger in the Woods".
"This was where a lot of our early adventures took place," said producer Kyle Newacheck, 38, of Danville. "Now to be there to do a completely independent movie and be on this adventure with him again, that was cool. The adventure was real."
Their childhood R&R consisted of lake trips at Pinecrest Reservoir, exploring the nearby Stanislaus National Forest, and winter snowboarding season at Dodge Ridge.
There wasn't much of a mystery about those experiences, they said, and there was no personal memory that supported the film that Burbank director Adam Newacheck, 35, set out to make when he first co-wrote the screenplay with lead actor Holly Kenney. three years ago.
Adam Newacheck said the film was originally meant to be shot at Big Bear, until he realized the visual opportunities presented by the aesthetic character of their Long Barn family cabin: green shag rugs, alternating pink and yellow stairs, orange and yellow wardrobes, blue and bedrooms with pink walls.
"It's straight out of the 1970s," he said. "So we completely overhauled the entire script."
The brothers returned to the region in January and February to relearn the neighborhood and locate filming locations.
A scene originally written to take place in a bar was transferred to the Pinecrest Reservoir, hiking scenes were formulated to fit the Stanislaus National Forest, and they narratively used a trap door in a nearby house .
"I realized that when we came (as kids) we mostly spent time with family. It was the first time I really met other people," said Adam Newacheck.
And they were surprised, he added, at how "cold" and unlike Los Angeles the resulting experience was. During the filming, they fired blank rifles, spoke loudly and shouted.
"Not a single person had a negative, angry or mean tone, which I'm so used to in LA," said Adam Newacheck. "But it was almost like a relaxing getaway, even though we were working like dogs. It made the process of making the movie really easy to be there and everyone really enjoyed it."
Kyle Newacheck alluded to a maverick, maverick myth underlying the production and an unspoken connection to their father and grandfather, who built the family cabin in 1969.
"There is something about the independent spirit whispering to me while I was there," he said.
Production on the film ran for 11 to 12 days in July and was shot exclusively in Tuolumne County, although there may be a few repeats and shoots in Los Angeles.
The movie is shot in Long Barn, Pinecrest and other forest locations, but there are, intentionally, no place specifically identified in the universe of the film.
"I think we're sort of setting it up somewhere so that everyone feels like it's a forest near them," Newacheck said.
Filming took place in an area of ​​Long Barn, with a few cabins all within walking distance and in the nearby forest.
Adam Newacheck said his brother cold-called neighbors for temporary accommodation for the 25-person crew and for filming.
"They didn't even know us and they said yes," he said. "We were such a small team because of COVID, it was good to stay in a bubble."
Details on the film are, at this point, scarce. But he's teased with a sense of mystery, hinting at some suspense lurking between two neighboring shacks in the forest.
"The film is about believing in victims," ​​Kyle Newacheck mentions cryptically.
The brothers prepared an official summary for The Union Democrat: "A relaxing weekend getaway becomes tense when a dog goes missing, accusations are made, and a traumatic past evokes paranoia."
"We had some really good looks in the movies, some really good shots," Kyle Newacheck said, including the Stanislaus National Forest tree lines, Pinecrest and Long Barn.
Local touches will be understated, like a sheet of glass from Banks Glass or locally made sculptures and a bear trap featured in the film.
The cast and crew ate almost daily at Alicia's Sugar Shack and Cafe Zoey, Kyle Newacheck said, although Adam noted that there were no street or street signs. company in the movie.
The film is currently in post-production, with the two brothers engaged in video editing on Thursday. At the earliest, a planned release date would be late 2022.
Post-production "can take another six to eight months and you start to figure out what to do with the finished product," Kyle Newacheck said.
They plan to bring it to festivals and markets in the next phase of distribution.
Their credits have been mostly on television.
Kyle Newacheck has previously produced and starred in an independent film that has been submitted to festivals this year, titled "I'm Totally Fine". He is currently producing and directing "What We Do in the Shadows", a show on FX.
Kyle Newacheck is best known as Karl Hevacheck, a drug dealer and stoner, in the hit television comedy "Workaholics", for which he is credited as a co-creator. He and Adam have both directed episodes of the series and have many directorial credits on TV sitcoms and even music videos.