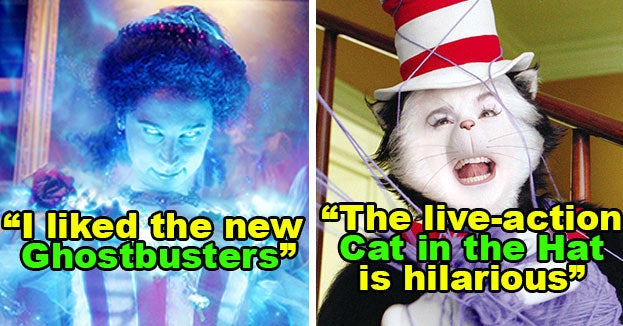 "I never understood all the hatred for this movie."
We asked members of the BuzzFeed community to share an opinion on an unpopular, but positive, film that elicits this reaction:
Here are some of the best and funniest:
1.
"Moana is the best Disney movie. Period."
2.
"Galaxy Quest is the best Star Trek movie. "
3.
"I think the Star wars the sequels are good and, in my opinion, better than the prequels. "
4.
"You all, Revenge of the Sith is my preferred Star wars movie. easily. By a landslide. Hayden Christensen had so much shit and for what? "
5.
"Batman and robin is the most underrated and hated movie in the franchise. "
6.
"I don't like all M. Night Shyamalan movies but people seem to universally hate Lady in the water (which I found to be a really lovely and adorable movie) and The village (which I loved!) "
7.
"Drop Dead Magnificent is the genius of cinema! "
8.
"Frick man, foreign movies with subtitles are where all the good content is, and if you refuse to watch a movie because you have to read the subtitles, you are missing a LOT!"
9.
"Okay I honestly find the action live The cat in the hat hilarious movie. "
ten.
"Frozen 2 is better than the first movie. "
11.
"Into the spider worm is better than most live action superhero movies. "
12.
"I liked Russell Crowe as Javert!"
13.
"Valérian and the City of a Thousand Planets is an incredible fever dream from a sci-fi movie. "
14.
"Donnie Darko is my all time favorite movie and gives me so much comfort in times of stress. "
15.
"Kevin Costner Robin Hood: Prince of Thieves is the perfect relationship between epic fantasy and campy fun.
16.
"The Phantom of the Opera movie is actually a very good movie. "
17.
"The princess and the Frog is a seriously underrated movie that doesn't get the love it deserves. "
18.
"Maybe it's just the bisexual in me, but I know why people don't like the new one charlie's angels so many. "
19.
"Armageddon is a fantastic film. It seems to have turned into a movie that people love to hate and I don't know why. It has everything I want in a movie: action, comedy, a love story, and a great Aerosmith song to boot. "
20.
"Jessie Eisenburg played a FANTASTIC Lex Luthor."
21.
"Shooting: Horror movies were best in black and white and with the blood and gore left to viewers' imaginations …"
22.
"I love the movie Watchmen. "
23.
"I love Ben Affleck's Batman, it was the perfect old version of Bruce Wayne!"
24.
"I liked the new one ghost hunters movie and I thought it was really funny. "
25.
"The Matthew Broderick Godzilla the movie is really entertaining and fun. "
26.
"Of all of Shrek's films, Shrek the third is superior!"
27.
"I enjoyed the Cats movie."
28.
"The Aladdin remake has so much hate and I don't see why. It has great costume design and production value, the songs were fantastic (especially the new songs like "Speechless"). "
29.
"It's totally normal to legitimately enjoy a film that hasn't been critically acclaimed. A little tired of the 'sin culture of cinema' where it feels like a movement has to be. 110% perfect before you can enjoy it. "
Please feel free to add your unpopular positive opinion in the comments below!
TV and Movies
Get all the best pop culture and entertainment moments delivered to your inbox.