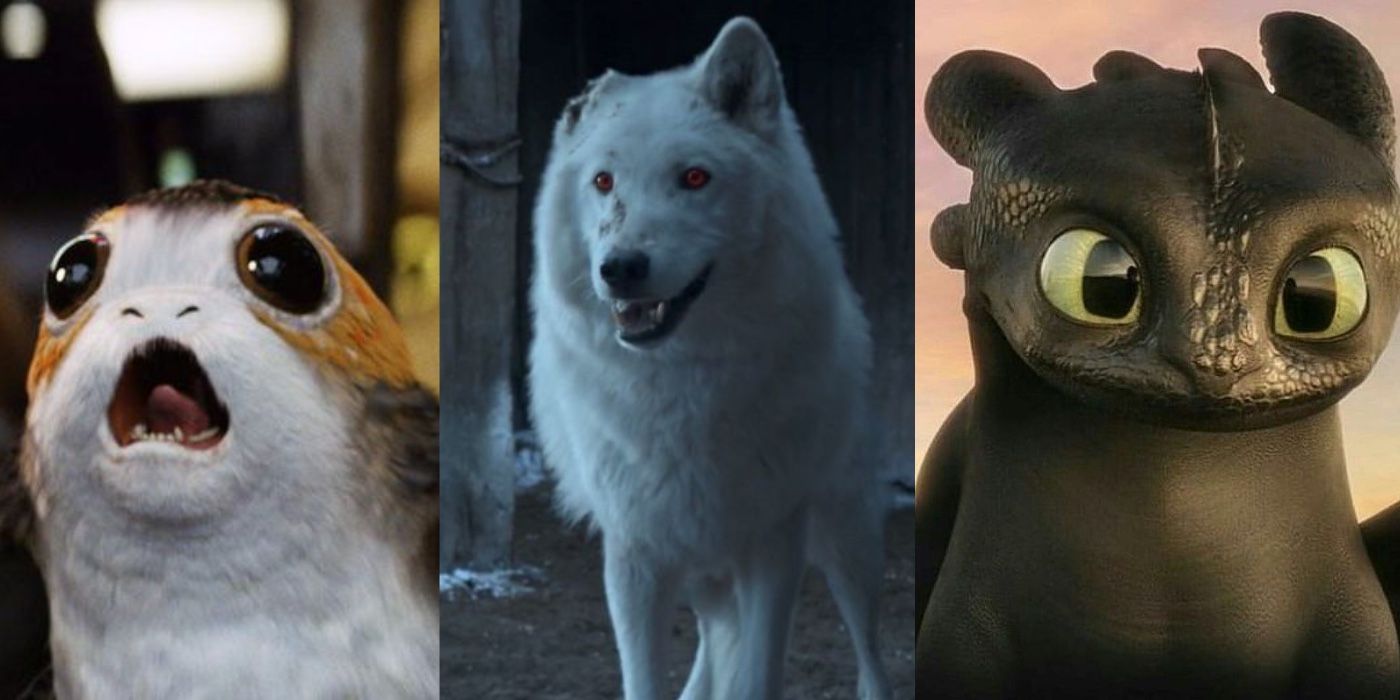 Mythical creatures have been a key figure in storytelling since the dawn of time and their popularity has never waned. With the incredible special effects of today's movies, these fictional movie characters have fans fantasizing about life among creatures. They inspire real-life pet names and amazing artwork across a plethora of mediums.
Related: The 10 Friendliest Animal Characters In Pixar Movies
From Harry Potter, star warsand game of thrones, majestic animals have brightened up epic stories with their fierce loyalty and strong contributions to the whole tale. These animals are not fan favorites for their looks, but also for their humor and innocence. Fantasy fans everywhere would jump at the chance to bring any of these fictional movie animals to life and bring them home, especially those with an affinity for treasure.
Hippogriffs – Harry Potter
Make his first appearance in Harry Potter and the Prisoner of Azkaban, Buckbeak the Hippogriff instantly stole the hearts of the audience with his no-nonsense attitude and the adoration of Hagrid to back him up. Fans weren't disappointed either when the creature dutifully held his own against Draco Malfoy, showing his good instincts and being one of the smartest animal characters in a movie.
Although the hippogriff is the most famous since the Harry Potter series, its origins date back to the 16th century and it has the front half of an eagle and the back half of a horse. In addition to its ability to fly, the hippogriff blows other means of transportation out of the water. fans of the HP The book series will also remember that Buckbeak plays a much more pivotal role than depicted in the movies.
Niffler – Fantastic Beasts
The Niffler is an adorable little creature that looks almost like a platypus and literally goes crazy for anything that glitters, making it one of the most mischievous magical creatures in the wizarding world. Fans will recognize this cute animal from the fantastic beasts and where to find them series as the troublemaker they would like to carry around in their pockets.
Not only is the niffler a desirable pet for its immense cuteness, its affinity for shiny things will come in handy when you need some surprise treasure (but good luck getting it from it). It's also been compared to a honey badger, and seeing Newt Scamander's interactions with the niffler makes more people wish it was real.
Wookies – Star Wars
Anyone who has heard of star wars (everyone) knows what a Wookiee is with his stature of over seven feet and his infamous language that's pretty impossible to put into words. While these giant furballs don't fit well in most homes, that wouldn't stop decades-old super fans from quickly picking up their own Chewbacca.
The Wookiees have shown their worth throughout the star wars candor with their unwavering loyalty to the Republic. Plus, who wouldn't want to play, and most likely lose, a game of Dejarik against Chewbacca?
Porgs – Star Wars
The Porgs just made their debut in a galaxy far, far away in the latest trilogy. They are small beakless birds that live on the island where Luke Skywalker isolated himself and where his fans dream of owning theirs. Their big puppy eyes on their tiny, round bodies are irresistible and the facial expressions are so endearing.
Related: 10 Star Wars Creatures That Could Inspire A Kaiju Movie
Even Chewbacca couldn't resist their kindness when he reluctantly decided not to eat one of the animals because of their pleading gaze, even though he had already cooked one. These sea creatures would be a nice addition to a backyard pool and a slide would be a must.
Ewoks – Star Wars
Hailing from the planet Endor, the Ewoks are bipedal creatures that are essentially intelligent teddy bears. They played a vital role in the Republic's victory in the Battle of Endor, which fans will know from Star Wars Episode VI – Return of the Jedi.
Almost anyone can relate to the desire to have a teddy bear that actually talks, let alone defend them if the stormtroopers attack. They may even think their owner is a god, as they did with C3PO. Fictional animals, or any animal for that matter, that can be trusted to be independent also gain additional favors.
Toothless – How to Train Your Dragon
Toothless is the lovable black dragon, a Night Fury to be precise, from the internationally popular series, How to train your dragon. Basically a giant puppy but with scales and wings, Toothless' emotional bond he forms with Hiccup (Jay Baruchel) is enough to leave fans wishing the dragon was real. He is unquestionably one of the cutest TV or movie characters based on terrifying creatures to grace the screens.
Aside from the "cool" factor of any real dragon (except maybe Smaug), Toothless is the last of his kind and incredibly deserving of the love. Fans would be happy to fireproof their homes for a chance to bring this beautiful and majestic creature home.
Scooby-Doo – Scooby-Doo
The infamous Scooby-Doo has stolen the hearts of viewers since his debut in 1969. Accompanied in the Mystery Machine with Shaggy, Velma, Fred and Daphne, Scooby-Doo plays a pivotal role in the gang solving mysteries and unmasking monsters. . He is able to communicate and his humorous accidents usually help in solving crimes.
Related: 10 Best Voice Actors Who Voice Animals
Luckily, feeding a real Scooby-Doo wouldn't be a problem since it will eat just about anything in front of it. Luckily for superfans, they can get a pet slightly akin to Scooby-Doo in the form of a Great Dane. However, they are probably less entertaining and their ability to solve crimes is probably considerably weaker.
Gremlins – Gremlins
Maybe only the darkest sect of fans would want Gremlins to be real, but no one can say their popularity has gone unchallenged since their movie debut in 1984. Their normal appearance is adorable and they're fuzzy creatures that look like kinda to the actual Furby toy that's probably still making noise in landfills around the world.
Even though the Gremlins are known to have so many rules to keep them in line, fans still wish they were real. As long as the little furballs stay dry and don't eat after midnight, they'll be fine. However, that's probably wishful thinking with all the actual crimes committed by the Gremlins in the first film.
Stitch – Lilo & Stitch
Twenty years ago, Disney Lilo & Stitch became an instant hit, in large part because of Stitch's undeniably lovable lead character. He instantly bonded with Lilo and became the companion she needed in a lonely world.
Maybe there's hope for the millions of fans who wish Stitch was an actual animal, given that he's a genetically-engineered koala-like creature. With today's bioengineering and gene-editing technology, it's not a completely wild idea to have animals like Stitch on earth.
Ghost – Game Of Thrones
Ghost was a huge staple in the game of thrones series and inspired dog owners around the world to name their pets Ghost and get dogs as close to a dire wolf as possible. Many people wish Ghost was real due to his fierce loyalty and intelligence, as well as his incredibly majestic appearance.
Fans can still hope that giant wolves exist among them, as the science of genetic engineering is still in its infancy and the possibilities are endless considering this is an actual extinct species. Perhaps in the future, geneticists will be able to draw a jurassic park and harvest ancient DNA from extinct wolves so the world's Jon Starks can have the ultimate companion.
Next: 10 Best Movies Where People Turn Into Animals Like Turning Red
Did Batman's Joker Cut His Own Face?